Features
Hazet 196-3 Front Car Cover. For protection of the front panels from scratches and damages.
General Information
Brand
Hazet
Part Number
196-3
Product Type
Front car cover
Application
Protection of the front panels from scratches and damages
Packaging
Retail
UPC
4000896149414
California Residents
Proposition 65 Warning
Physical Characteristics
Weight
Color
Black
Material
98% polyamide/nylon, 2% polyurethane
Details
Features
Also for working with the engine running
Waterproof, oil and grease repellent
Regarding fire safety, cover corresponds to British and US standards Fed 302
Easy to clean
Loop fastening
Cut–outs for lighting and radiator
Trade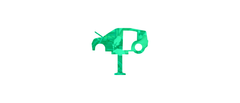 Why would you use this tool for ?
Hazet Tools are indeed some of the best tools made today, and they have a long tradition of excellence to back them up. Hazet got started in 1868 in Remscheid, Germany making parts for construction, lawnmowers and locks. Hazet has since grown and earned their reputation as the leader in manufacturing automotive tools, pioneering tools specifically made for cars as early as 1913. They further solidified their reputation in automotive tools by developing and making the tool for the iconic Volkswagen Beetles and Porsche 356. Hazet Tools and automotive work are the perfect match!